A Big Reunion, Big Plans
Tom Phillips and Tom Culcasi practicing for the 50th during a Traverse City, MI visit
     If you read class notes in the printed Notre Dame Magazine, what you are reading about the 50 reunion May 31 – June 3, 2018 may be two or three months old. There are ways to become current. As a safeguard, our blog, www.NDclass1968.com has a post titled "50th Reunion" (see categories at right, in column) and, in addition, www.my.nd.edu has a section titled "Reunion 2018" where, for example, you will find information about accommodations. Of course, the best way to make good plans is to make plans directly with the lifelong friends you made as a young man on the Notre Dame campus.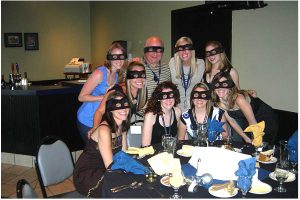 Tom Gibbs entertaining young ND grads at our 40th reunion
     Thanks to the effort of South Bend classmates led by Fred Ferlic, Gene Cavanaugh, Skip Strezlecki and Chris Murphy, October, 2017 ended with quite a reunion taking shape. The South Bend group plus Rocky Bleier and President Tom Weyer met often with the Notre Dame staff responsible for our class. There will be performances of Rocky Bleier's "Rocky's Show". John O'Connor will talk about Watergate's Mark Felt and the film John has produced, Mark Felt: The Man Who Brought Down the White House. Our class dinner, with help from Matt Walsh, may take place in the Architectural Building. Chris Murphy – hope he's told Carmie – has invited the class for brunch at his South Bend home Sunday, June 3rd. There will be a class Mass celebrated by Rev. John Sheehan, perhaps with Rev. John Pearson concelebrating. There will be a hospitality center ready for heavy use. A ceremony will honor the military service of our class.
     The battle of the bands taking place in committee at the end of October will be resolved as a Rick McPartlin faction favoring a Neverly Brothers group and a Fred Ferlic faction favoring a Darryl Buchanan band come to an agreement. Fred has dance floor plans for a new knee gained in an October surgery. Whether the knee is of gatoring quality, well, that will be decided at the party, maybe with the help of a stack of other athletic classmates: President Tom Weyer, Gene Cavanaugh, Tom Gibbs, Tom Condon. . .
     The coming together will be great, the core of it talk.
     For the best of conversation, of course, we will need one another, so get in touch, begin catching up, and make plans. What about locating the friends who have become mysteries? Look up emails, phone numbers and addresses at www.my.nd.edu.
     Reunion practicing is a good idea, too. Tom Culcasi offers an instructive example: "Phil Mika and his wife Mimi spent a couple of days with us in early Sept. The plan was to head up to MI and find the famous judge Tom Phillips. Unfortunately, the hurricane (Irma) had other ideas and Phil thought it better to head back to Orlando to make sure his homestead was still there. So Mimi and Judy decided to make use of the shorter visit time by shopping. Judy and I then decided to try on our own to find the judge in northern MI. We made the trip to the wilds of Traverse City and found his Honor, Tom Phillips. We had not seen each other since graduation. Got to tell you we picked right up where we left off. Told lots of stories about Keenan Hall days. Tom is a great host and showed us the sights and dining places of Traverse City. We found that we can use the same barber now. We have made a promise that we will get together more often than once every 50 years. We all plan on going to the reunion so see you there."
     Jim O'Rourke is coming and says that the same is true for Tom Scully (Illinois) and Tom Warner (California).
O'Rourke family pet Mochi ready for USC game
     The quality football play this season has been a good supplement to the attraction of the two tailgate areas of our class, too. Tom Condon and Anne were there with John McCoy at the NC game, saw both Tom McKennas as well as Dave Martin, Roger Guerin, Bryan Dunigan, and the birthday-celebrating Tom Weyer.
Kevin Daly and Jack Lavelle at wedding of Jack's son, summer, 2017
     In late September, Bill Kenealy's wife Joan succumbed to cancer. Please keep the Kenealys in your prayers.
     Please send news and photos to Tom Figel, 1054 West North Shore, Apt 3E, Chicago, IL 60626, tel. 312-223-9536, tfigel@reputecture.com.