On your mark, reunion! With style.
(Be sure and see a post below.  Walt Moxham sent the note Dennis Hunt, now-deceased, wrote about Notre Dame and friendship on graduation day, 1968.)
Likely reunion schedule: see the schedule in "People Coming to the Reunion", which is one of the following articles or posts.  The calendar comes from a document sent to Fred Ferlic by a Notre Dame staff member helping Fred and his committee with plans.
Tiger Schaefer has been toning up for the reunion, with the aid of a manual Jim Chapman
left in their Howard Hall room at the end of a year.
     In June of 1968, as eager young grads, we departed from a campus life that could seem cloying and filled with regulations. Fifty years later, we return with well-developed habits of independence. Still, there are minor strictures on us. Take service animals, for example. Neil Rogers found that his ploy to attend as brother Rich Rogers' companion will not work: Neil will have to pay, same as the rest of us. The stringent policy makes it unlikely that we will see Tom Culcasi's honey badger or Jerry Murray's comfort python. And cougars? Men, we are in our seventies. Cougars are out of the question.
Other than that, reunion time will be freewheeling. The bar service logjam affecting our class dinner five years ago will be solved with new staffing: a bartender for each 290 guests this time rather than 300. Spouses still need proof of age. So have fun. Compare handicaps. Boldy, go up to Roger Guerin and show him photos of grandchildren. Discuss Middlemarch with members of a new southwest Florida book group: Will Dunfey and Joan, Jeff Keyes and Meg, Bob Brady. Join Gene Cavanaugh, Tom Gibbs and Class President Tom Weyer in a gator pile. Watch Bill Cleary and Mark Lies resume a handball competition; Mark hopes someone will bring oxygen. Participate in the Depends raid Jim Hutchinson is organizing at St. Mary's.
Presentations by John O'Connor (the Mark Felt Watergate history) and Rocky Bleier, plus a Friday morning performance of Ned Buchbinder's play "Coming Attractions" will provide cerebral stimulation.
Fred Ferlic, Gene Cavanaugh, Chris Murphy, Class President Tom Weyer and Rick McPartin
are helping Notre Dame planners fix some bugs and get the reunion schedule ready for us.
The abundance of emails indicate that the reunion will have great attendance and rich conversation subjects. Here are bits from the letters, photos and posts found in full at www.ndclass1968.com: Chris Murphy and Carmi, along with Carmi's mother Ernestine Raclin, are lead donors for a new Notre Dame art museum. Physician Tom Mork and Dona will attend from Monterey, CA; Tom's former Cavanaugh roommate Tim Swearingen now lives in Vancouver, WA. Mike Burgener and his wife are in a temporary Southern California residence after the widespread fires damaged their home and destroyed their business facility. Ken Howard will be at the reunion with former track team members Pete Farrell, Bob Timm and Ron Kurtz; they, their spouses and Paul Nowak and Barbara spent an October weekend with the Timms in Lake Geneva, IL. John O'Connor and Jan had to skip when John was needed for a San Francisco opening of his film Mark Felt. Long out-of-touch Dick Blumberg has surfaced – in the class of 1969. Former lawyer and ESL teacher (Laos), Dick splits his year between Polson, MT and Puerta Vallarta, Mexico. Tom Dorsel has composed and performed "Buy a Brew for Jesus".  Philadelphia lawyer Joe Ferry likes to appear in the class notes as often as he appears on campus; he came back to the Temple game, first visit since 1968.  Pat Collins will be the grand marshal of the Washington, D.C. St. Patrick's Day Parade March 11, 2018.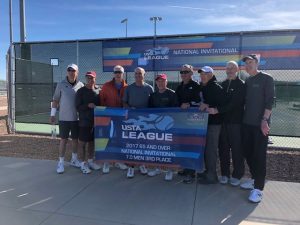 I'm in the middle of this photo.  Captained the 65 and over New England team, Outer Cape Stripers (Cape Cod), to 3rd place finish (out of seventeen national regions) at the National Championship in Surprise Arizona last weekend.
Regards,  Jim Bisceglia
PS.  Incidentally, my Uncle Pat (Pasquale Bisceglia) was a first team AP All American at ND in 1955.  He later played for the Montreal Alouettes.  His son, JP, was a classmate and football teammate of Brian Kelley (team captains in successive years) at Assumption College in Worcester.
Paul Ramsey, along with Richard Coburn, travel globally while devoting year-round attention to two robust programs they founded in India and in the Yucatan, Mexico. The 21-year old school serving Mexican Mayan families now counts numbers of college graduates. The program in India is on the same track.
After viewing a CBS Sunday Morning Report that included Dan Doyle's work in Appalachia, Mike McCullough wrote about the network of health clinics our physician classmate and another man brought into existence. Father John Sheehan will come to the reunion from the Jesuit Center in Amman, Jordan. Gene Schraeder and Ellen live in Bluffton, SC where Gene is a Wells Fargo branch manager. Jim O'Rourke, teaching at Notre Dame's London, England location (and shown in dining attire below), sent a grand report of dining at the Athaneum, a club with some history.
Chris Manion is one who will not attend the reunion; from Maryland, he sent some thoughts about the Notre Dame of then and now: "
Tom and 'mates: Last fall, ND's guiding light these days, Dean Thomas McGreevy, announced to the world that the Notre Dame we graduated from (yes, "fifty years ago") was "mediocre." I was baptized at Sacred Heart and have three degrees from ND. I suppose that my attendance would allow others more progressive to mourn my mediocrity as I walked across campus from one fundraising event after another, disguised as a "reunion" …. clearly an act of humility and charity to those superior souls who had the sense to attend a more perfect Notre Dame in Later years. But no thanks. Notre Dame Our Mother, pray for us."
See a following post, a moving one from Walt Moxham.  Walt sent a note received long ago from our now-deceased classmate Dennis Hunt.
Does joy ever come pure? We have the sadness of Dana Hart's death Dec. 16, 2017 after years of trouble with Parkinson's. John Hickey wishes us to remember Bret Bernoff, a class member who is carried on the 1969 list but began with us:  Barnett "Bret" Bernoff passed away after being involved in a motorcycle crash in Volusia County, Florida, on Thursday, March 16, 2017.  Pray, too, for Professor Donald Sniegowski and his family; the Sniegowskis' youngest son recently learned he has leukemia.
Please send news and photos to: Tom Figel, 1054 West North Shore, Apt 3E, Chicago, IL 60626, tel. 312-223-9536, tfigel@reputecture.com.