The Great '68 in Force!
Smoochies to the Great '68 from
Miss June 1968
(See following post "Reunion Plans as of mid-May" for a reunion schedule and other information.)
Notre Dame's efficiency will have the trash removed, the broken glass replaced, the furniture set back upright, the carpet stains erased by the time these notes appear in a printed magazine. Before then, for three or four sweet days at the beginning of June, we will behave as if we are young and middle-aged again.
Confident of a clean election in June, Class President Tom Weyer is also confident that Special Counsel Brian Sullivan will complete his examination by then of alleged Russian interference in some voting during the late 60s and early 70s.
Fred Ferlic, frothing to his planning committee through calls, texts and emails right up to the time of the weekend, has activities gelling into one good time after another: nights of dinners and dancing, days of programs, memorials, Mass, and being together. Handball player Mark Lies continues to trash talk Bill Cleary. South Benders Fred and Mary Jane will take up residence in a hall, a chance for Fred to obstruct any big government/big university regulations affecting free living. Many others, acting on Joe Hale's discovery of good rates, will stay at the Doubletree. While attempting to make his own reservation for himself and Marilyn, Mike Obiala happened on a loophole: when the "nice young lady" (Mike's term) found all 1968 rooms taken, she located space under the 1958 class heading – and at a price $1 better than ours. Bryan Dunigan and Roger Guerin, who made the reservations as they graduated in 1968, chose the Morris Inn.
Registration by the end of April had regular campus visitors and infrequent visitors returning: Rocky Bleier will perform his one-man show several times. John O'Connor, Ralph Neas and maybe Jim Stoffel will give presentations. Mike Suelzer is coming from Iowa City, IA, Jim Davis from Charleston, SC, Dick Faherty from Austin, TX. Wally Moxham had little trouble luring Tom Brislin. Jim Hutchinson and Eileen have their peeps Jerry Murray and Rich and Neil Rogers attending, maybe even camping with the Hutchinsons in a gaudy, Grateful Dead type of RV behind the Bookstore. Paul Higgins and Jim Chapman are coming from Oregon, Bill Clark from California, Paul Ramsey from New York.  Think of a name and you will find that friend among the merry-makers of the weekend. Female readers may wish to note that John McCoy is still single!
Freshman year, Keenan Hall bunch in photo
found by Tom McKenna (Chicago cuz)
The reunion will test the truth of what Bob "Rabbit" Noonan wrote as he retired from his consulting position in 2017: "After retiring from the Army, I joined Booz Allen Hamilton here in Northern Virginia and led a business unit supporting defense intelligence agencies, organizations, and units. On Oct 31, 2017, I retired from that great company as an Executive Vice President and now it's all about travelling and catching up with old friends and spending more time with family. Diane and I live in Herndon, VA, just outside D.C. in Northern VA."
The infrequent visitors such as the Noonans, most of them from the coasts, will have the thrill of face-to-face encounters with the Chicagoans whose names appear so regularly in the class notes, usually because Chicago classmates have a propensity to provide news about themselves.
While a 50th reunion is special, it is not the only reunion opportunity. Bill Maturo, Chris Manion, Brian McTigue, Pat Hermann, John Schmelzer, Jerry McCabe, Dick Farina, Michael R. Ryan, George Kelly and the rest of you, Joe Blake, Bill Kelly, Dick Kelly, Dennis O'Dea, Tom McCloskey and all of you who are unable to come back the first weekend of June, know that you are missed and cherished. Remembering someone? Reunite by phone, by email, by arrangement of a lunch, of a mini-gathering at a destination or on a cruise.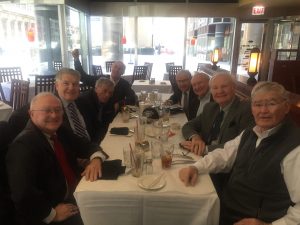 Bryan Dunigan, Ted Nebel, Jim Woods, Tom Figel, John Walsh, Tom Gibbs, Tom Weyer and Mike Heaton, just after departure of Mike Tyrrell and Mark Lies and just before presentation of lunch check
A mostly Chicago group proved the reunion-everywhere-often theory in late April, when Jim Woods came from Milwaukee. Chicago area native Jim flew right into the lunchtime comparison of the high school alma maters attended by Mike Heaton, John Walsh, Bryan Dunigan, Tom Weyer, Mike Tyrrell, and Ted Nebel. Afterward, Mike Heaton summed up the debate: "I have come to appreciate the difference between those who grew up on the 'South' side, the 'West' side and the 'North' side. In the words of Brian Shannon, the South side guys think they are the toughest, the West side guys think they are the smartest, and the North side guys think they are English."
During February, Paul Zalesky and Steve Sullivan chose a Florida location for their own reminiscing over several conversation-stimulating drinks.
Steve Sullivan and Paul Zalesky, in prepartion for 50th reunion
Mike McCullough re-discovered his report of Robert Kennedy's presidential campaign stop in South Bend, "To Make Gentle the Life of This World".
Ray Munchmeyer
The deaths of Ray Munchmeyer March 26, 2018 (see obituary in following post) and of John Hughes' wife Trish during January, 2018 are sadnesses that make us grateful for the time these important friends were with us. Please remember the families and pray for them. In addition, remember Dave Hirschboeck's family. The April death of this friend from the 1969 class produced a gathering of classmates from many years: John Walsh and Dia, Kevin Daly and Helena, Kelly Baruth and Ruth, Shaun Reynolds and Susan, Nancy Carlin and Tom Figel.
Dennis Reeder will repeat the favor he did the class at the previous reunion: he will video classmates who wish to send greetings to absent friends.  Once completed and placed on a hosting service, the video will be available on our class blog and will have a link for sending by email or text.
_________________
April 27th email from Mike Burgener:
  
Son beau comes in on may 28th and will be here for 5 days…..cannot wait to see
 him…..so i will not be at the reunion…please pass on my best to all our great
 class of 68!!!  tell rocky, dave martin and all the other great men i will
 miss them.  

we are back in the house….still lots of work to do rebuilding but it will get
 done.  the best is that my gym is up and running and i am coaching and 
training as hard as ever……my style now is:  GEEZERS RULE!!   the geezer group
 ranges in age from 83 down to the youngest buck being 62!!!   the geezer
 categories are:  50-59 you are a geezer in training.  60-64 you are a geezer.
  65-69 you are a super geezer.  70-74 and i designed the tee and made
 the groups so we are:  stud geezers!!!!  75+ since hopefully we will
 make….we will then be SUPER STUD GEEZERS!!!

SEMPER FI TO ALL MY CLASSMATES.

MIKE
_________________
Please visit the rest of www.ndclass1968.com for photos and other items. And please send news and photos to Tom Figel, 1054 West North Shore, Apt 3E, Chicago, IL 60626, tel. 312-223-9536, tfigel@reputecture.com.
Bonus from 1968 yearbook:
Received from Bryan Dunigan May 9, 2018: During the reunion, Joe Kernan will receive the Sorin Award.  Joe will receive the award during a special presentation following the Reunion All-Class Mass on Saturday, June 2. Mass will begin at 4 p.m. inside the Joyce Center Fieldhouse, and the ceremony will start at 5 p.m., immediately following Mass.
Also, Bill Kenealy says that Bob Noonan will receive the Corby Award in November.