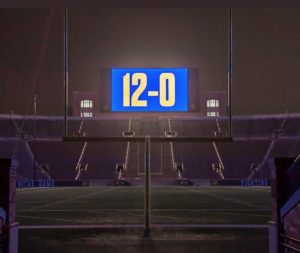 Tailgate and Marriage Secrets Revealed
Keeping the glorious reunion mojo going, the South Bend classmates in combination with the Chicago ones made a large swath of the near-stadium parking lot a tailgate gathering place for friends who just can't get enough of a good time on fall weekends. Twice, Muffet McGraw arrived to show off her team's NCAA trophy before photo-bombing a smiling, green-shirted row of Fred Ferlic, Gene Cavanaugh, Roger Guerin, Joe Kernan, Tom Gibbs, Bryan Dunigan, Dennis Toolan, Dave Dittman and Class President Tom Weyer.  Tom McKenna of Carmel, IN, recalling the tailgate's origin in Honest John Weyer's discovery of an open Engineering classroom when we were students, called the gathering "a public trust."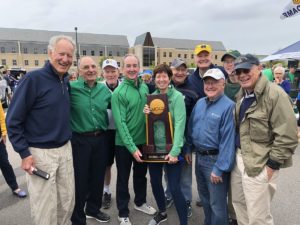 The core tailgate pack, minus the South Bend friends who had seen the Weyers all other fall weekends, met October 20th at the invitation of the Weyer children for a Chicago party celebrating a tradition almost as lengthy: Tom Weyer and Mary's 50 years of marriage.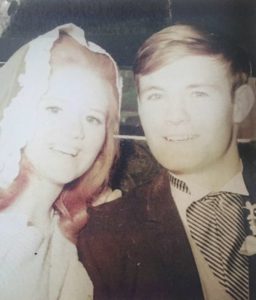 Mary and Tom Weyer, recent photo
The secret? "Find a woman you can't live without and then stay alive," Tom said. After he and Mary spoke, Roger Guerin said, "That's the longest speech Tom Weyer has given without mentioning Rocky Bleier." Bryan Dunigan, Rick McPartlin and Patty, Bob Ptak, Dennis Toolan and Mary Lou, Tom Durkin, Matt Walsh and Joyce, Tom Gibbs and Sheila were there. Mick Hyland was absent, caught up with the first reunion of his Pangborn Hall study group.
Three days later, with leaves turning color and temperatures falling, Bob Ptak went to join Donna in Naples. Roger Guerin and Jean will go after Christmas. . . along with Chris Murphy and Carmi, Paul Dunn, Jeff Keyes and Meg, Bob Brady. . . Expect a flow of postcards: alligators guarding golf balls (Guerin), a beach sunset (Dunn), and the off-color (Ptak).
On the East coast, Jay Schwartz hosted a lunch party at the fashionable Harry Browne's in Annapolis for Mike Baroody and Muff, Pat Collins and Emily, Dennis Reeder and Elise, Tom Condon, Tom Figel and Nancy.  See the Schwartz-centric menu.
Putting the fashion in the fashionable Harry Browne's, Annapolis
The St. Louis legal community named Tom Corbett a leading practitioner in trusts and estates.
Tom Corbett
Jorge Robert R. Saavreda, regretting that he missed the reunion, wrote that "We have recently moved from Stafford County, Virginia (where we lived for 20 years) to Denton County, Texas (North of Dallas & Fort Worth). The move was encouraged by my mother's failing health (she is 96 with associated physical challenges). Although originally from Puerto Rico, our family has, over the past 30 years, slowly relocated to the Dallas Metroplex. Health permitting, we will make the next reunion."
And check the experience Allen Brown had. "A group of us (Mike Carroll, Mike Ford, Tony Shaheen, Bill Clark, Ed Ferry and Brian McManus) got a Facetime session going with Geoffrey Thornton who was in the Seattle area. (The FaceTime with Geoffrey) was capped by a surprise ten minute conversation with Lou Holtz who happened to also be on the 7th floor outdoor courtyard on the Duncan Center. Tony asked Lou if, prior to the Catholics v. Convicts tilt, he really said to "leave Jimmy Johnson's a** for me." Lou said yes, he recalls saying something to that effect prior to the game. The group also got to engage Dr. Brian Ratigan, MD, an orthopedic surgeon in South Bend who was also there. Brian, as you recall played linebacker for Lou as well as the Indianapolis Colts."
Mike Hampsey's death in June, followed in August by John Longhi's death after 30 years of Parkinson's suffering, led Chuck Perrin to compose a song:
https://youtu.be/bJPGcmJ6usw.
After returning from Peace Corps service with the heart of nurse Tess, John earned a Harvard doctorate in geology and then became a research scientist at the Lamont-Doherty Earth Observatory of Columbia University.
John Longhi, Peace Corps volunteer
Mike Carty, who would have been hard to keep away from the reunion, died months before, in February, 2018. Paul Zalesky brought John's death to our attention; Phil Feola did the same for Mike. Father John Pearson, CSC, was in South Bend for a visit and a surgery when the South Bend Tribune announced the death of Professor Donald Sniegowski. Tom Condon's brother Jim, a Vermont radio personality and state legislator some think was the funniest Condon, died in August. Funny? Listen to one radio skit, "Leave it to Bernie", on soundcloud.com.  On November 18, 2018, Tom McKenna, Carmel, IN, suffered the death of his brother Jim, age 78, after decades of diabetes illness.  Jim (James, Jr.) was a Marine Corps veteran and a solid contributor to the McKenna's hometown, Madison, IN.  In following days, Joe Ferry wrote of the death of his brother Hugh Ferry:  I am saddened to report the passing of my beloved brother Hugh, a member of the Class of 1959. He passed away to the strains of Notre Dame Our Mother shortly after the Irish victory over Syracuse on Saturday, November 17, 2018.  Hugh was a first-generation Irish-American, the oldest of seven sons of Irish immigrants, a Korean War veteran, a world-class marathon runner, having run the Boston Marathon in 2:52 at age 50 in 1981, and a great big brother (I would never have been able to go to ND without his support).  He was also very witty. Once, we went to Sweeney's after an ND game and a string-band rendition of the Victory March was playing on the jukebox. When it concluded, Hugh cued up his recording of it by the ND Band and said "This is the Douay Version!"
Thanks to Bob Smith, Joe Hale, Jim Hutchinson and others who help us keep up with our news. Please send notes and photos to Tom Figel, 1054 West North Shore, Apt 3E, Chicago, IL 60626, tel. 312-223-9536, tfigel@reputecture.com.