Joy, Sadness and Hope
Can the emissions of the jets transporting so many classmates south to Naples, FL this winter be an unremarked contributor to the global climate change? Tanned Bob Ptak and Donna were back in the Chicago area for holiday celebrating with Class President Tom Weyer, Tom Gibbs, John Walsh, Gene Cavanaugh and Pat, Dennis Toolan and Mary Lou, Matt Walsh, Roger Guerin and Jean, Ted Nebel and other Bryan Dunigan guests. Ted Nebel spoke of January, 2020 retirement, though he then told of a prodigious "reduced" schedule of tax form preparations.
Brian Schanning, whose Navy service was submarine duty, now is seeing the world from above the waves. Brian and Sue took a cruise ship along the Norwegian coast, around the North Cape and into Murmansk, Russia, where they toured the Russian Northern Fleet Museum. Said Brian: "Never imagined back in ROTC, I would pay my respects at a memorial to the Russian submarine Kursk." The Schannings had lunch with Bob Raaf and Barb when the two came to Boston from Ft. Myers, FL for Christmas with their daughter and grandchildren.
Bob Brady, Brian's former Farley Hall roommate, was also traveling – and writing about what he found in Egypt: https://robertlindsaybrady.wordpress.com.
In February, Gene Schraeder and Ellen will make a bucket list trip to New Zealand, their third ND trip. They meant to see New Zealand while in Australia years ago but then 9/11 occurred. Gene is "still working, but finding the time to do things like this before age takes over."
Jim Hutchinson and Eileen had fun with Jerry Murray and Mary Ellen at the Duke game. Jerry, said Jim, has a bad knee "but ran 40 yards in 4.3 seconds when I mentioned 'Manhattans'."
In Western New York, Walt Moxham and his Vietnam Veterans group are hosting Rocky Bleier's performance at North Tonawanda's Riviera Theatre on August 8, 2020. The four-minute video Steve Anderson sent of Rocky's NCAA award supports everyone's admiration for our classmate. Click on https://youtu.be/IIxXaFGY4lk.
From San Francisco, John O'Connor sent an effulgent shout-out to Tom Condon and Pat Collins: "They were two of the most insightful, pull-no-punch reporters during Watergate." John's new book, "Postgate: How the Washington Post Betrayed Deep Throat", similarly is a pull-no-punch appraisal of Watergate cover up and the initiation of today's partisan climate. Tom Condon piled on with "Beat Reporter", an online ND Magazine feature about Pat Collins' journalism career: https://magazine.nd.edu/stories/beat-reporter/ Bryan Dunigan's alert to his list (if Bryan had a dollar for every name, he would qualify for the Democratic Party's national debates), Bob Noonan wrote: Enjoyed Tom's article and it's spot on. I have three grandchildren who live in the DC Virginia suburbs and after identifying Pat as he measured snow on TV one day as one of my classmates, they now refer to him as 'that Notre Dame guy who measures snow'. I told them he did other things but we are all known for something special." (Note that space in the printed version of the magazine was not available for the feature about Pat. Exhibiting something of the Scholastic's famous work ethic as they struggle to produce four issues per year, the editors selected, for example, the current issue's feature about two Chicago alumni who design cocktails. So, go Irish there. )
In the parallel universe our General Program classmates occupy, a long email exchange begun with Tom Durkin's recommendation of a New Republic article by alumnus Tom Geoghegan, "Educated Fools", produced Ned Buchbinder's hope for a General Program reunion before the 2020 Presidential election. Ned included: "I guess I am retired from getting up every morn and "going to work" (and getting paid moola.)….but, I teach kids (volunteer) one day a week, audit one or two courses for free at two-year campus of U. of Wisconsin."
After hosting Jim Smithberger the weekend of the Virginia Tech game, Larry "Monk" Forness sent a funny recollection of a first class, Language and Logic: "The prof was Fr. Brennan. Smithberger was from the tough area of West Virginia. And, Fr. Brennan, first day of class, he asked every student to give his name, where he was from, and something about himself. Smithbeger was called, and gave the info. Then, it was dead silent for many seconds, and Fr. Brennan finally said: 'Did even one guy in this class understood even a single word of what that hillbilly just said?' Place went nuts!"
Brian Schanning's correspondence also included sorrow: Brian and Ben Lucchese saw each other at the New Mexico game Ben attended with his daughter. Then, Brian heard from Ben again: news in late November, 2019 that Ben's daughter Nancy Marie had died. May Ben and his family have the help of all of our condolences and our prayers.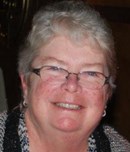 On January 17, 2020, Tom Condon's sister Pat, a celebrated, longtime financial manager for the government of her native New London, CT, succumbed to an illness resembling ALS, one that had caused her six years of intense suffering. Tom expressed a feeling similar to his sister Dede's: "It's an awfully sad thing to be glad for her sake of her passing, but the past month must have been torture for her. Now she is released from that. Prayers greatly appreciated." See Pat's obituary in a following post.)
Sunday morning, January 26, 2020 began with a note and obituary from Paul Zalesky, who had learned of the sudden January 19, 2020 death of Richard Jurjevic. At Notre Dame, said Paul, " Rick and I worked, as student part-time technicians under the direction of the department head, in the Aerospace facility studying (under confidentiality) fluid dynamics for various-shaped vehicles that evolved into the Apollo mission selections. We used what, at the time, was pretty unique high speed cinematography in the smoke wind tunnel." Rich's obituary, a celebration of a classmate who figured significantly in his family, his work, his parish and his community, is now available in a following post. Know Rich and his family? Please say prayers and console them.
A thudding email from Dennis Gallagher January 9, 2020 had the shocking message line "John McCoy Death": "A few minutes ago, I received a telephone call from John McCoy's sister Anne. John returned to Taos on New Year's Day after spending the holidays with family. After being unable to reach him for several days, his sister called the Taos police, who found that he had signed in to ski on January 2 and his car was still there. Given the passage of time, it's presumed he had a fatal skiing accident and a search for him is under way. His sister says she will keep me informed of developments, which I will pass on to the group. I'm kind of in shock, so I'll just end here for now."
On January 23, Dennis sent a second email, this one with an obituary (see in a following post) and the news that the search for John had ended with police issuing a "presumed dead" document. John's family is holding a memorial service in Annapolis on Saturday, February 15.
Anyone who knows Dennis knows that his remarkable intelligence extends to sports and the arts, two interests he and John shared through conversation and through attendance at years of DC concerts and sporting events. They were friends, great friends, with an early link formed in a dispute over which one had come to South Bend for an improvement in climate: Dennis' Oswego, NY hometown prevailed over John's hometown, near Erie, PA.
Missing now, how present John was in his years. Absorbed into the small group Pat Collins assembled for publishing of three Observer issues per week (Note that, Notre Dame Magazine), John applied himself to whatever tasks were given him. Most often, the duties came from Bill Kelly, the business manager, or Bill Knapp, the paper's advertising salesman. While columnists such as I pontificated about the world, John worked to correct it: without any fanfare, he began helping South Bend families who needed guidance with household budgeting. After graduation in 1969 (a class affiliation John would set aside in favor of 1968), John joined the Peace Corps for two years of service in Lesotho, Africa, a country surrounded by South Africa. He began his professional career as an Arthur Andersen accountant in DC before earning a law degree and joining Arent Fox. More than once, during Chicago visits, Nancy and I saw John receive an email, begin pacing, begin noodling for a couple of hours, and emerge with a way for a mogul to pass through the needle of the US and global tax codes.
Too many classmates remain out of contact, their achievements and thoughts going uncelebrated. If Joe Ferry could come back – twice in recent years – from the gravitational pull of Philadelphia, what about others: e.g., Mike Bylebyl, Mike Botti, Edward Wilbraham, Thomas Weiford, Paul Ramsey, Sam Misuraca, Thomas D. McCloskey? Come into the light, friends from 1968.
Effulgent or otherwise, please send news and photos to: Tom Figel, 1054 West North Shore, Apt. 3E, Chicago, IL 60626, tel. 773-764-4898, tfigel@reputecture.com.