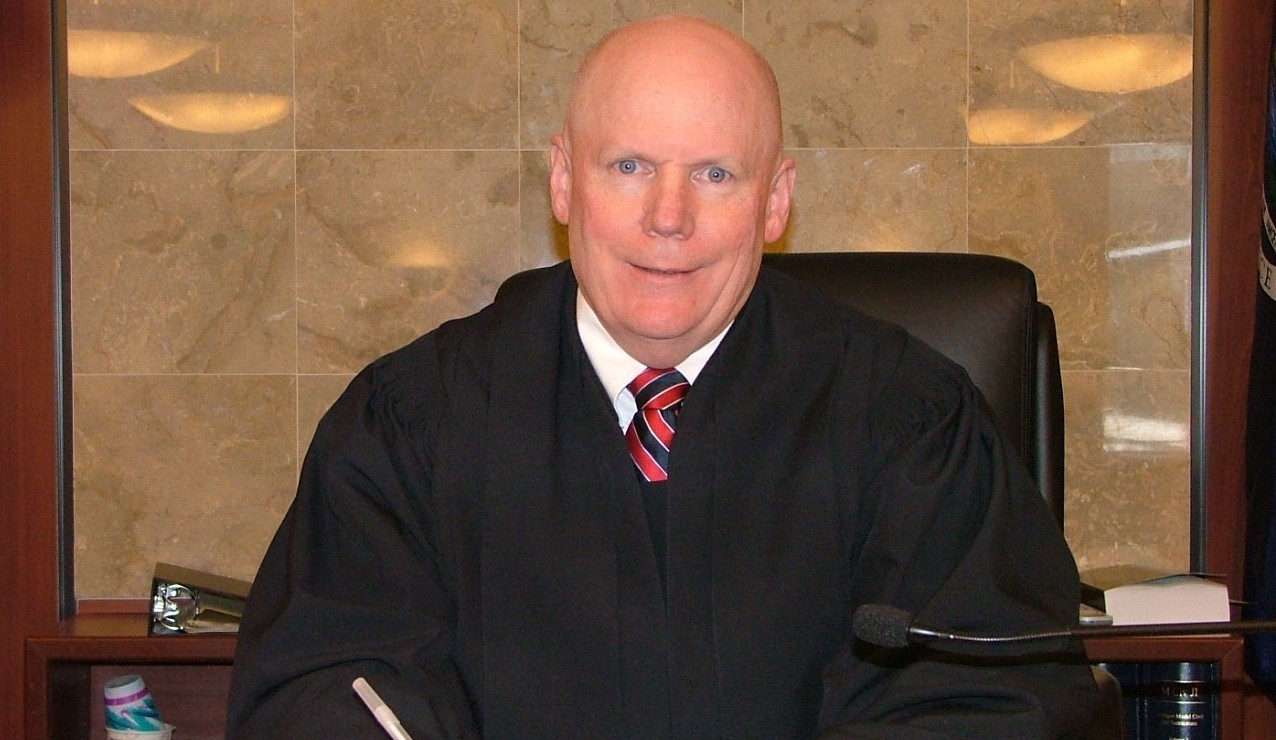 Retiring Judge Reflects On Drug Court And More
By Patrick Sullivan | Dec. 26, 2018
This Friday (Dec. 28), 86th District Court Judge T.J. Phillips will hang up his robe and retire after presiding one last time over the "drug court," which is fitting, because he started the specialty court in 2016 in response to the opiate addiction epidemic.
Drug court diverts hardcore drug users who face less-than-delivery charges away from prison and gives them a chance to get treatment and have their felony conviction reduced to a misdemeanor.
Phillips also helped establish a community outreach court to serve the homeless population and an eviction diversion program to help people who might their homes. The Ticker sat down with him to talk about his time on the bench and how he looked for ways to help rather than punish many of the people who came before him in court.
Ticker: Does it make sense to you that judges cannot run for reelection once they turn 70 in Michigan?
Phillips: I think I've done some of my best work after I hit 70. I started the drug court after I hit 70. I started the homeless court, the community outreach court after I hit 70. Started the eviction diversion a little bit before that. So, I mean, I think it is kind of ageism. If someone is doing a good job, why kick them out?
Ticker: Tell me about eviction diversion.
Philips: It brings together various agencies and nonprofits that can help provide rent payments. And if the person can show they can sustain paying their rent, that they just got behind for a little while, then the agencies are willing to pay the rent and the tenants can stay in their homes; they don't become homeless. And the landlord gets paid, so everybody wins.
 
Ticker: Since you've been a judge, what insights have you had about how the criminal justice system should work?
Phillips: You know, I have a job where most people don't want to be there. And let's say we have someone who works as a cook in town, and they get in trouble, and I'll talk to them and I'll ask, "What do you cook?" I always asked them, "What's your signature dish?" I think then, you can bring it down to just two people talking. I think they're more relaxed, and then get treated better by the system. You talk to them as individuals. They don't want to be there. They're scared. But you can reach out to them and make progress.
Ticker: Is that something that happens in drug court, or can that kind of interaction happen in any kind of proceeding?
Phillips: I think it can happen in any kind of proceeding, usually criminal proceedings, because most of our stuff is criminal, 88 or 85 percent. I think it is important people have a good experience. It's important to treat people with respect. I think that you should do it because it's the right thing to do but it's also the best thing to do. So maybe if the judge is nice to them, they will look inward rather than at the crappy old judge that came down on them.
Ticker: How did the drug court originate?
Phillips: We have to respond to things, and we had to respond to the overdoses we were seeing. And the specialty courts had been successful in other areas, so it was time to get it up and going. Drug court is very different than my other courts, because in drug court, you kind of act like a cheerleader. You act like Oprah where you interview people and talk to them and see how they are doing. And you still have to act as a judge, too.
I have a lot of admiration for people that are trying to change their lives. Probably 75 percent of people feel they should lose 10 pounds, and they're motivated to lose 10 pounds, but very few of those people ever lose those 10 pounds. That's something they want to do, they are motivated to do, and yet it doesn't happen. And here are people that have a terrible disease of addiction and they are motivated to do something that's very hard. So, I hold them in high esteem, because they are trying hard.
Ticker: How successful has it been? Do you measure long-term results?
Phillips: We haven't reached that level yet, because we don't have our first graduate. We're getting close, probably within the next three or four months we'll have a couple graduates, and then we will review how they do. The state will as well. They want to see what the rate of recidivism is for our drug court. Right now, we measure it on a day-to-day basis, because they are tested twice a day for alcohol, at least in the beginning, and eight times a month for drugs. So, every day we are seeing how they do and then twice a week we meet with them. Every week I hope no one messes up, and we are doing pretty well.
Ticker: Have very many people failed out of drug court so far?
Phillips: We've had some people fail out. Usually they fail out in the first month or two because they just weren't motivated. After they make it past that, they're pretty good. We want to be open to the hard cases in drug court, so we should not be surprised that some of them don't make it through, especially in the first couple of months. But sometimes the hard cases are the ones that surprise you the most.